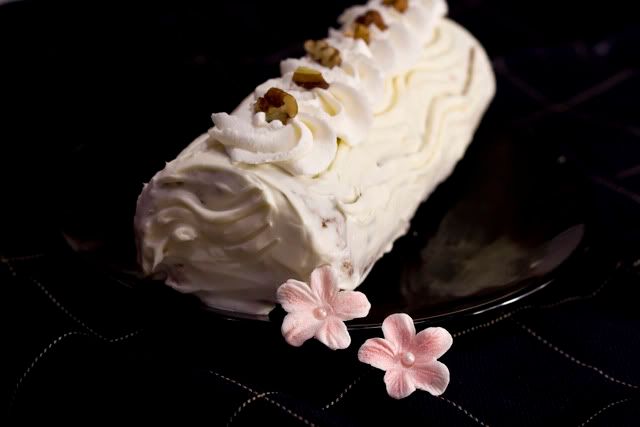 I made the Pumpkin Walnut Cream Cheese Roll by Sarah Phillips today. It's my first time making a roulade and first time making a cake with Pumpkin in it. The only vegetable that I have tried putting on a cake is Carrots and I was excited to taste how a Pumpkin would taste together with the entire cake ensemble. The Pumpkin Roulade is a traditional cake served on Thanksgiving and growing up in the Philippines, the only time I get to eat Pumpkin (or is it squash?) is when my father would cook his special Chili Crabs in Coconut Milk (yum!).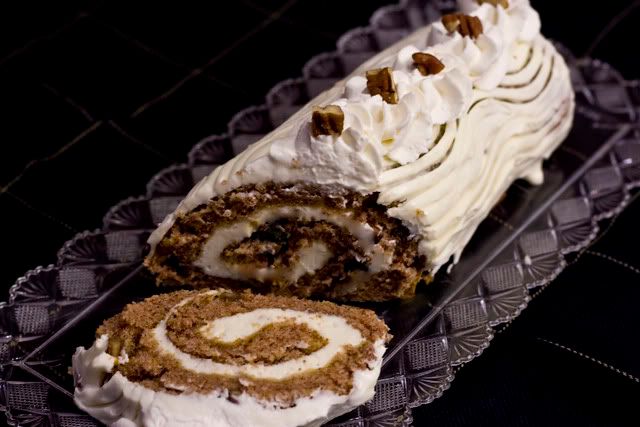 It's about time that I make a roulade. I kept putting it off since December last year when I thought of making a Christmas log. So I started with mixing the batter of the Pumpkin Cake. I went on the long route of making this cake because I cannot find canned solid pack pumpkin and crystallized ginger here in Israel. Yes, it's pumpkin and ginger together, with cloves, nutmeg, cinnamon, lemon juice, nuts. The recipe required walnuts but I also cannot find any at the supermarket, so I substituted it with Pecans. Mixing the batter is similar to a genoise in that it starts with whipping the egg and sugar then adding the rest of the ingredients. After a few minutes of mixing, I spread the batter onto a floured jelly roll. The cake baked for 15 minutes and it smelled wonderful!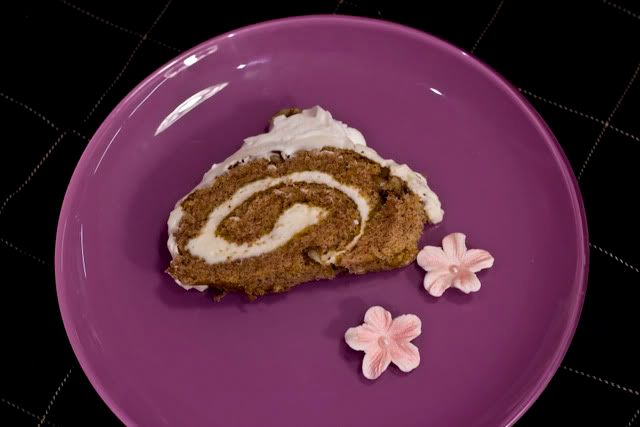 Once removed from the oven, I started to unmold the sides from the pan and then rolled it in a parchment paper over a kitchen towel. I left it to cool completely while wrapped in the towel. While the cake is cooling, I make the cream cheese filling. Once the cake is cooled, I filled the middle with cream cheese filling and rolled it again. I let it cool in the fridge, and while doing so, I made the spike cream. The spike cream is a mixture of heavy cream, vanilla, a little powdered sugar and a little rum extract. I beat it until it's stiff.
After an hour in the fridge, I removed my rolled cake from the parchment paper, frosted it with some more cream cheese frosting and topped with spike cream swirls and walnuts.
Here's how the cake looked like. It was not as hard as I thought it would be. And the taste was a real surprise for me. Having no idea how it would taste like, I anticipated not liking the final cake. And I'm glad I was wrong. It was so delicious that we needed second slices of the cake. I'm excited to have it again tomorrow, for breakfast. :)