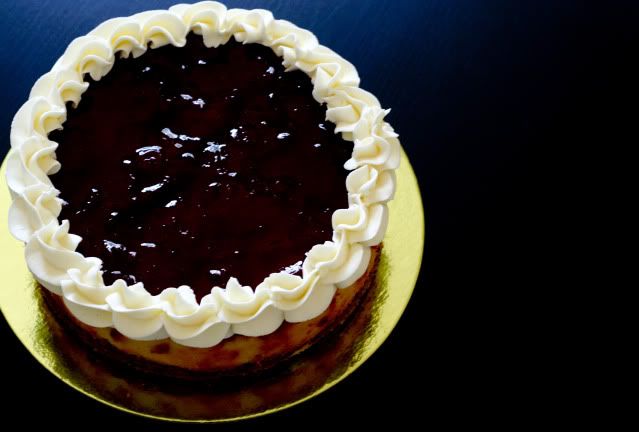 I'm back, sort of. I had friends, who I haven't seen in ages, coming over the weekend at my new home. I had not psyched myself that I'd already be baking so I was sort of forced to make a cheesecake. I requested them to bring me some local dishes (laing and sinanglay), and in return Pinchette requested for a cheesecake. I made Sarah's Luscious and No Crack Cheesecake recipe, which is my absolute favorite cheesecake to make and eat! I don't eat cheesecake in restaurants anymore after I had learned how to make this recipe. The topping is strawberry jam and the frosting is a Swiss Meringue Buttercream.
The photo above is the best that I could take with bad lighting (which I think looks decent enough).
Here's us over at coffee and cheesecake. Louie is my highschool bestfriend, and Pinchette is his wife (also our highschool batchmate). Pinchette and Fr Rodel were classmates.