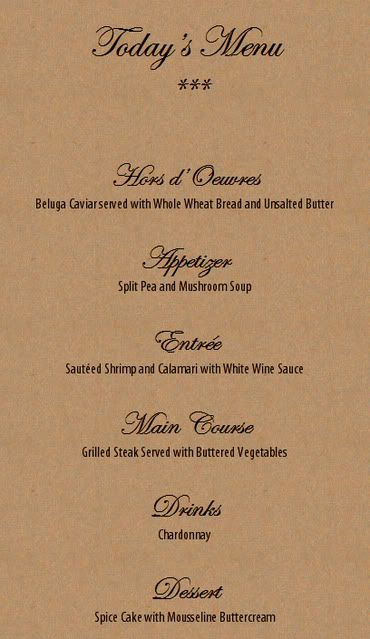 Today is a special day and we thought of going out in the beach and have a meal at one of the restaurants downstairs by the beach. The beach was also very inviting, no waves and very few people so we also thought of taking a dip after the meal. However, when I went outside my terrace, the wind was chilly so we just decided to have our meal at my apartment. I will just be cooking with whatever I have at home and we will have a full course meal. Hehe. I'm so not into fancy eating and fine dining but it's OK with me once in a while. So I created today's menu. There's only that much ingredients sitting in my fridge. I was not able to go to the supermarket the entire week because we were busy with all of our test program releases. However, I think we did good with the meals we have and I'm still full right now, after 4 hours.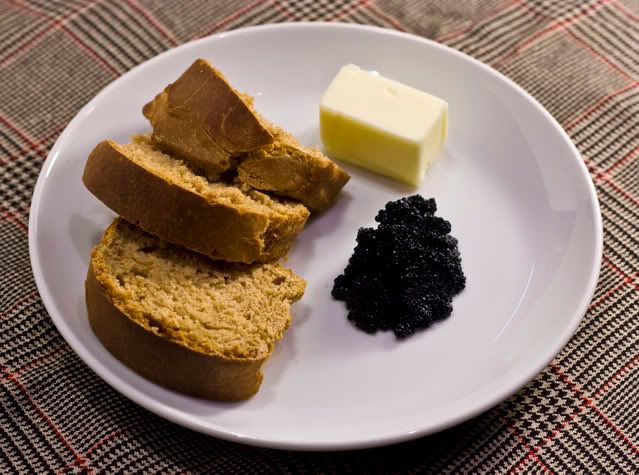 I bought Beluga Caviar when we went to Istanbul last September and we planned on eating it today. One of my main goals when I went to Istanbul was to hunt for a bargain caviar in the Spice Bazaar. We went to the Spice Bazaar almost closing time and once we got in and started asking for prices, it was ridiculously expensive! Well, for me at least. The prices started at 400 euros for 100grams. I won't be able to buy one, I thought. So much for my dream caviar. However, as we went deep inside the stalls, we stumbled on one stall ran by two nice gentlemen. My friends bought a lot of Turkish Delights and sweets from them. I was still not sold to the caviar. The gentleman started the price at 140 euros and then went to 70 euros for 100grams. I told him that I will come back and he said that if I come back, he will give me more discount. So the next day, I went back and redeemed the promised discount and after 30 minutes of haggling, I have my precious caviar for 40 euros with free 10 grams of Iranian Saffron. I was like scheming Blair Waldorf who got what she wanted. Haha! Manny told me that the smirk on my face that day was priceless!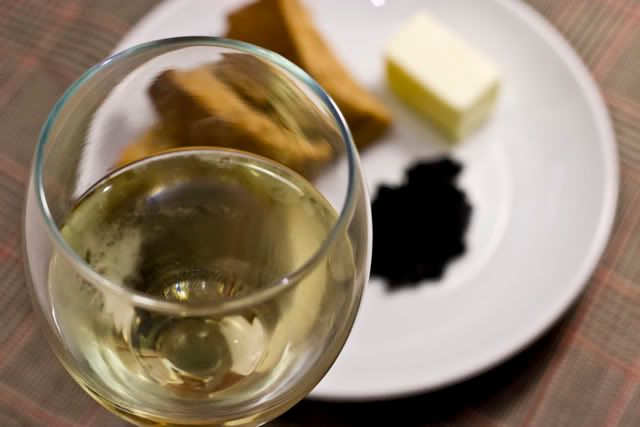 I'm no wine expert but I do keep a few wines at home for those meals where it's meaty and all. I opened a Chardonnay for the Caviar.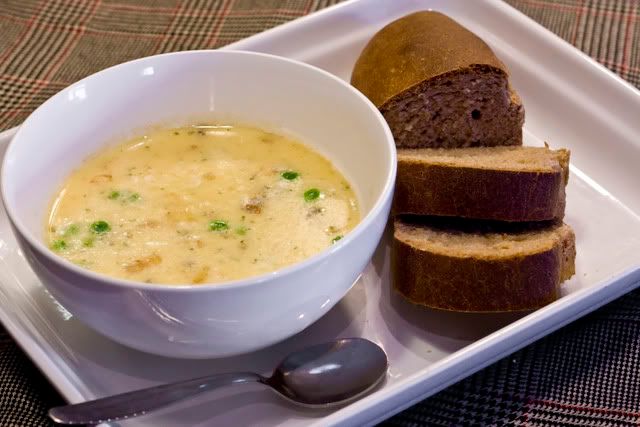 I made a Split Pea and Mushroom Soup. I was already hungry while I was cooking so I decided to prepare a hot soup for the grumbling tummy. The soup is made of peas and button mushrooms sauteed in garlic and shallots on heavy cream, with a dash of garlic salt and thyme. The bread is also homemade, this is my first time to actually make a loaf bread and it was a keeper. The recipe is of course from my mentor, Sarah Phillips. I used Wheat Flour for the bread.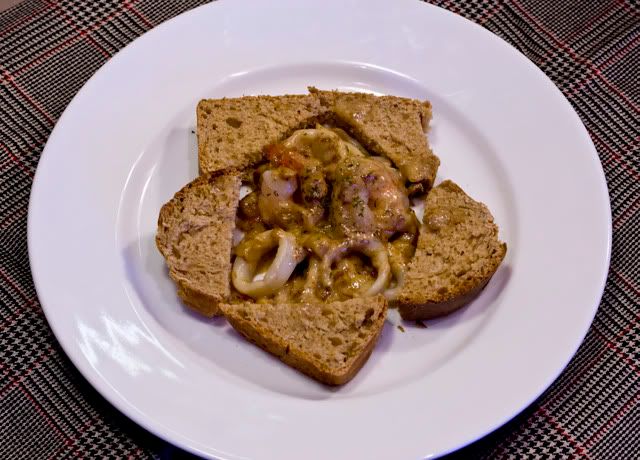 For the starter course, I sauteed some Shrimps and Calamari and dressed it with White Wine Cream Sauce with a little Parsley on top. This in itself could have been a full meal already.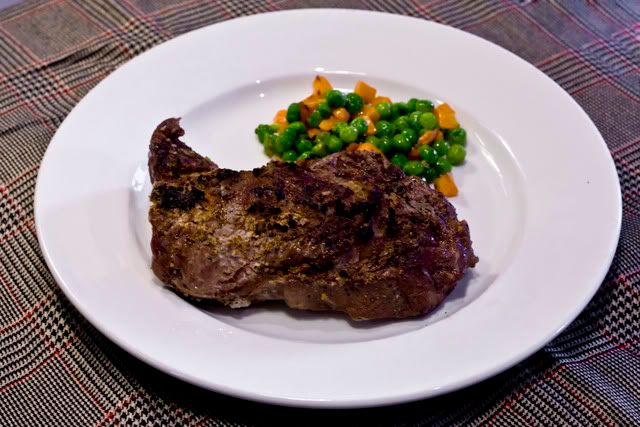 As for the main course, we had grilled steaks. My rub for the steak was pretty simple, but the steaks are very tasty. I just rubbed it with Kosher Salt, crushed black pepper and Garlic Salt, then let it rest for a few minutes before grilling. I like my steak medium rare to medium, still a little pink on the inside but not bloody. Manny likes his steak medium to medium well. To go with the steaks were some buttered vegetables, which is basically just peas and carrots.
Not being able to go to the supermarket means not having fresh veggies at home. :)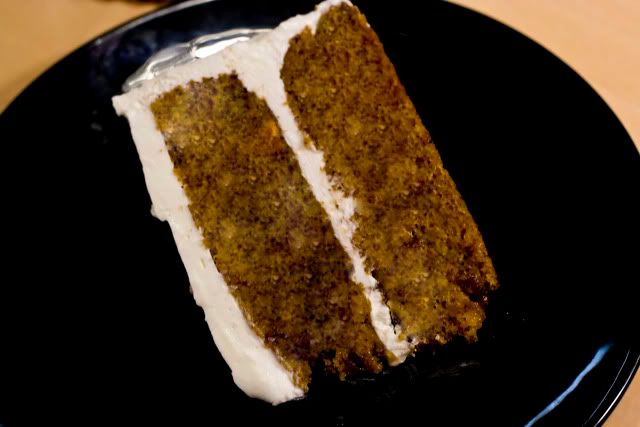 For our dessert, I have previously made an Allspice Applesauce Cake with Mousseline Buttercream. The cake was very fragrant and bursting with flavors from all the spices on the cake, allspice, cinnamon, ground ginger. The buttercream is also a perfect compliment for the cake since it is very light and just yummy. Though it is not a typical dessert, it was what I have at the fridge today and it was very good anyways! After having made a few cakes a few days ago loaded with chocolates, this is a very nice (and yummy!) change.

So there goes our day. :)