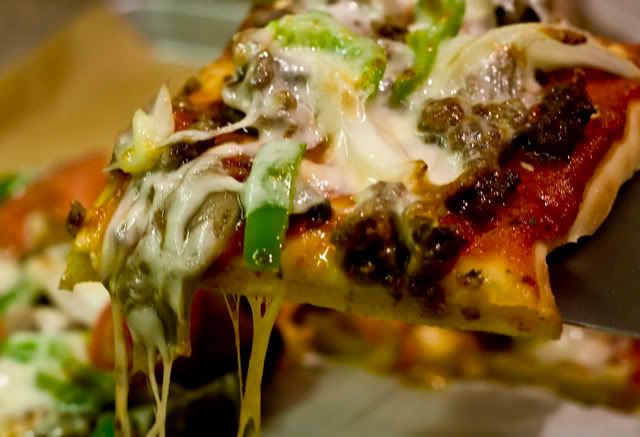 This month's Daring Bakers' challenge is Pizza and Toppings. The Pizza recipe is Peter Reinhart's Pizza Napoletana which I had made a few times in the past and then a combination of sauce and toppings on top.
I was pleasantly surprised that this is this month's challenge. I love this pizza recipe, in fact this is the only pizza recipe that I bake. It is very easy to work with and the resulting pizza is just divine! It is perfectly crunchy and chewy, and it does not get soggy with the sauce and the toppings.
Making the dough, I started with combining the dry ingredients together and then slowly adding the cold wet ingredients. Having the water cold is a key factor. I then mixed the dough until everything is combined and starts to form a ball. Afterwhich, I kneaded it with the dough hook attachment until it is smooth but still sticky. Then I kneaded it for 2 minutes with hand. Cold hands for kneading is also important. When my hand started to get warm, I run it with cold water. At this point, I divided the dough into 6 pieces, lightly spraying each with oil before wrapping with plastic and then I made it rest in the fridge overnight.
The next day before using it, I took it out of the fridge 2 hours before baking to let it rise. Once the dough has risen, I attempted a toss but ended up rolling the dough. LOL! I rolled the dough in a sheet pan and baked it at almost 500F. After 5 minutes, I took it out and then I placed my sauce and toppings. For the sauce, I used a tomato sauce. I mixed a few teaspoons of lemon juice, spices like oregano, thyme and parsley, dash of garlic salt and pepper. For the toppings, I added some ground beef, green bell pepper, onions, mushrooms, grilled tomatoes and lots of mozzarella cheese. It was so delicious!
Here's how the pizza looked like.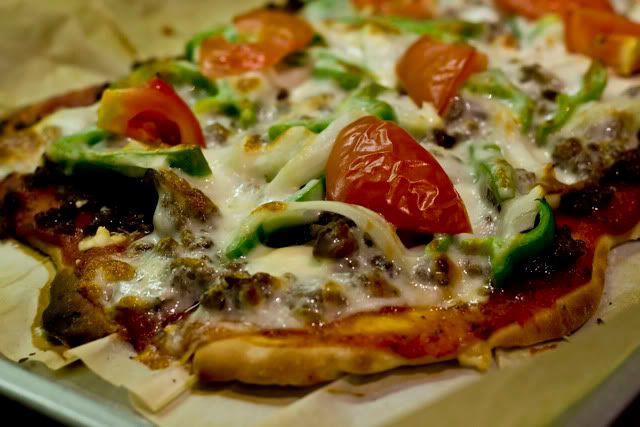 And here's a fuzzy picture of me attempting a toss!