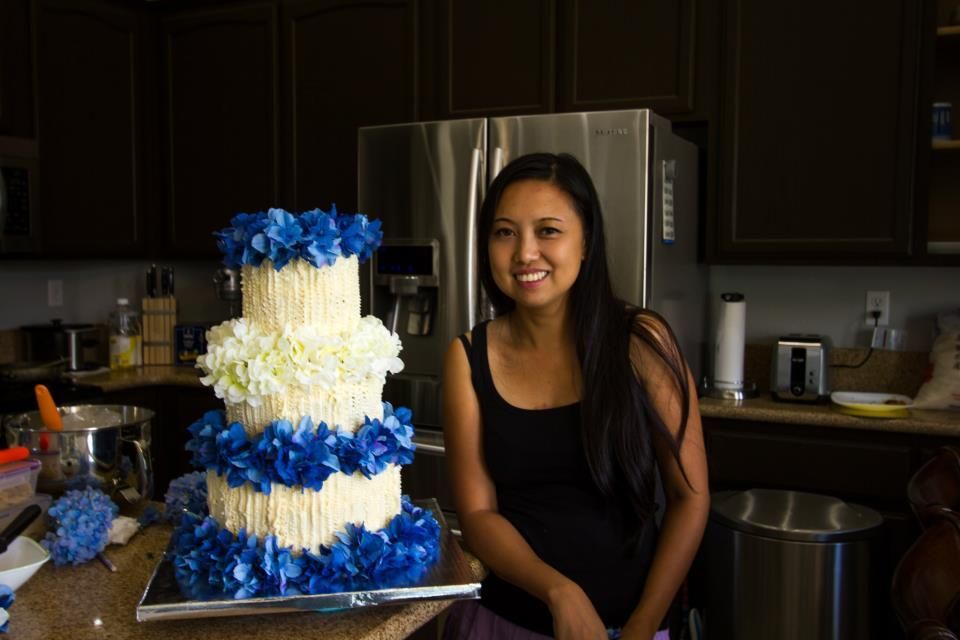 As it is, getting married is already stressful. And as they always say, you never really have enough time for all the preparations however long you were planning for your wedding. I had 9 months to plan my wedding. It was really short, that 9 months went by really quick.
I'm a really hands on person, and having said that, I wanted to be a DIY bride. I did a reality check on what are the things that I could do on my own, and things that I have to buy or delegate. Being the baker that I am, I wanted to make my own cake. I had always wanted a simple cake, and I have a design on mind since Day1. I did not want any fondant, I just wanted a three tier cake, with very minimal piping and some flowers.
I got married on a Saturday, and I baked all the layers of the cake on the Monday prior to the wedding. I baked Sarah's Ultimate Butter Cake in Lemon and Ultimate Chocolate cake - the butter cake being my favorite, and the chocolate cake being hubby's favorite. My cake tiers are 6, 8 and 10 inches. I baked extra layers just in case I mess up something. I also made all the Buttercream on the same day. I had all Vanilla Buttercream. After having baked and cooled everything, I wrapped everything and stored. I defrosted everything on Thursday night and assembled them on Friday morning. Each tier ended up with 3 layers of Chocolate-Butter-Chocolate Cake combination. After assembly, icing/piping and decorating, our wedding cake was ready to go. Hubby brought the cake to the hotel, and the chef at the hotel graciously stored it for us.
I loved our wedding cake, and everyone was raving about how good it tasted. We served it as dessert for our wedding and we still have the top layer frozen for our anniversary.