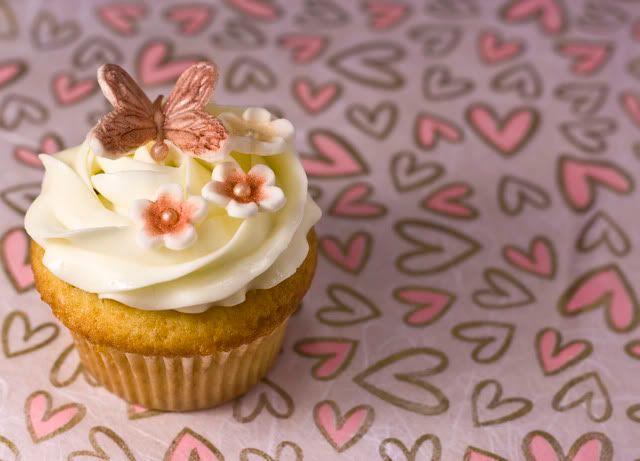 It had been a very hectic week at work and some work still spilled over the weekend. I got a very early weekend work call at 7:30am after having stopped working at 2am. It's sick! I was so stressed that all week, I had been looking forward to a weekend of lazing around the house doing nothing, or maybe bake something.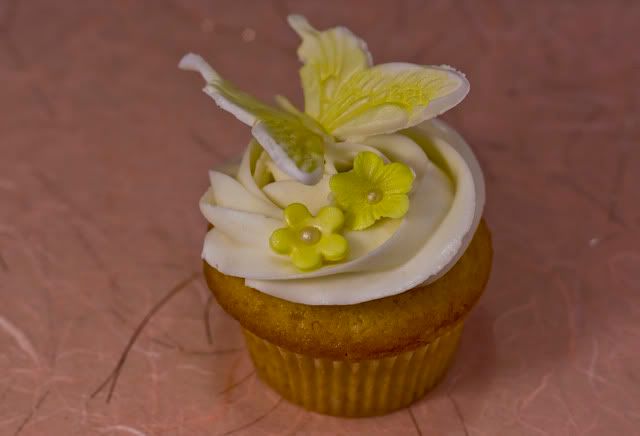 I decided to make few cupcakes today, just to be able to get my oven burning, my creative juices flowing and keep my mind off work. I made some Lemon cupcakes today using Sarah's Lemon Blueberry Muffin recipe. I was actually browsing through my recipes and I found it sitting for the longest time in my to-try list. I did not have blueberries in the fridge, and I planned on substituting it for raspberry, but I got lazy. Hehe. I ended up with just the Lemon cupcakes.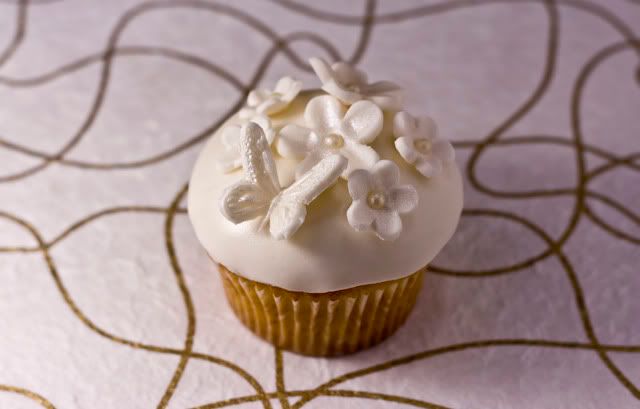 Making the batter and baking was fairly breezy for me, and for some reason, making the frosting is a bigger for me. Not that it's harder to make, I just don't quite enjoy making it like the batter, but it's still fun nevertheless. Oftentimes, I would bake something and we would end up eating the cake bare because I got lazy making the frosting (most recently, the cream cheese pound cake eaten bare!). But this time though, I still have some leftover frozen Italian buttercream that should be good enough for 12 pieces of cupcakes.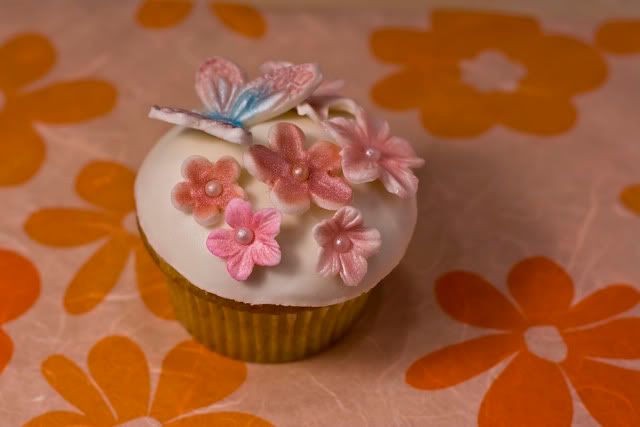 The cupcakes were out of the oven after 30 minutes while I sat down by my PC reading about Iphone3G vs Blackberry Storm. Hehe. The cupcakes looked really pretty, they domed nicely and not one cupcake fell out of the liner! This recipe is quite a keeper, I said to myself. The cupcakes also never fell flat once cooled. I immediately tried one of the cupcakes and it was so lemony good! I was expecting the cupcake to be dense and heavy because the recipe was for a muffin, but I was glad that it was fluffy and moist.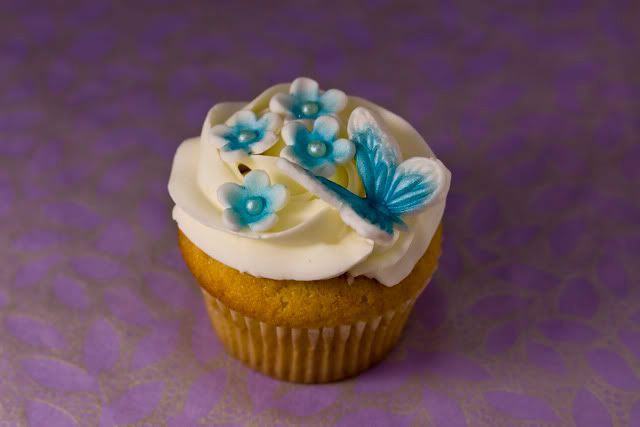 I frosted some with a layer of the buttercream and then topped it with a piece of fondant. The others, I swirled with buttercream. My theme for decorating the cupcakes was butterflies, each cupcake with different colors, and I wanted to go over the top with the flowers. However, I ran out of fondant! So, some cupcakes ended up with more flowers than the others. So here are some of the cupcakes, my favorite is the white one (I know it's dull!). Tell me which one is your favorite. :)