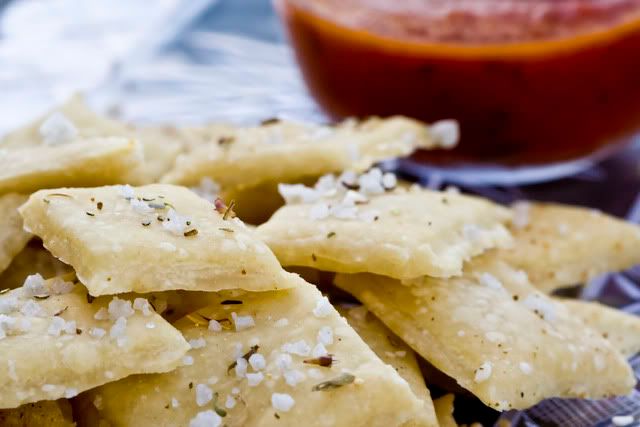 Lavash Crackers by Peter Reinhart with Toppings are this month's Daring Bakers challenge. Aside from the Lavash Cracker recipe, the toppings that will go together with the crackers should be vegan. It's a first for me, first time baking crackers and first time making anything vegan (or at least consciously). My staple pizza recipe is Peter Reinhart's so I know that the Lavash Cracker recipe will be just as good. Reference for the full recipe is Peter Reinhart's The Bread Baker Apprentice (pp 178-180).
I started working on the crackers by mixing the flour, salt, sugar, yeast and oil with water to form a ball. I used up all the 1/2 cup + 2 Tbsp water for the recipe, because for some reason, my dough was quite dry. Once the dough was mixed and formed a ball, I kneaded the dough for about 10 minutes. After kneading, I coated the dough with a little oil, wrapped it with plastic and then refrigerated it overnight. When I was ready to make the crackers that next day, I took out the dough from the fridge and then let it rise at room temperature until it doubled its size. It took around 2 hours to let the dough rise enough. I rolled the dough in a sheet pan as thin as I could and cut it up into small squares with a pizza roller. I topped all of the squares with Kosher Salt, and then I made a variety of spice toppings on each row, with each row topped with additional Thyme, Oregano, Parsley, Sesame Seeds, Garlic Salt and Rosemary. I wanted to find out which combination will be the best one. I let the toppings settle for 3 minutes on the dough and then I baked it at 350F.
While the crackers were baking, I prepared the Salsa sauce. It's just a tomato sauce and I added some salt, lemon juice and pepper to it. The crackers were done after 15 minutes and I took it out to cool for 5 minutes. I tried each of the combination that I made and it was all so good! My favorite though would be the one with Oregano and Garlic Salt.
Here's how the final Lavash Crackers with the Salsa looked like.