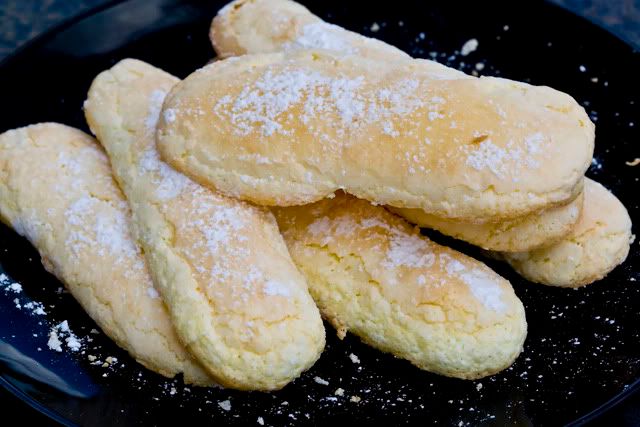 Ladyfingers are a popular pastry in the Philippines and it was one of my favorites growing up. It is more commonly known in the Philippines as Broas. I'm not sure where the best Broas were in the Philippines but I remember my mother frequently buying a lot of it whenever we pass by Quezon Province.
I was actually going to try to make Ladyfingers because I saw several cakes which had it as a component, like Tiramisu and Charlotte. I was intrigued by what this Ladyfinger is, and I never knew that it is our beloved Broas. Only after baking and trying it did I realize that it is the same thing! Boinks!
I baked Sarah Philips' Ladyfinger recipe and it tasted really good! I would say right now that it is the best broas that I ever had, but I'd wait to judge that when I go back home because I may just be Broas homesick right now. LOL! It was very light, tasty and crunchy, which is my kind of broas. I loved it too because it was not too sweet. The recipe required whipping the egg whites and the egg yolks separately, and then slowly folding them together with some flour afterwards. I was extra careful not to overmix the batter in fear of it not rising. It baked for around 10 minutes and once out of the oven, the smell reminded me of the good old broas days.