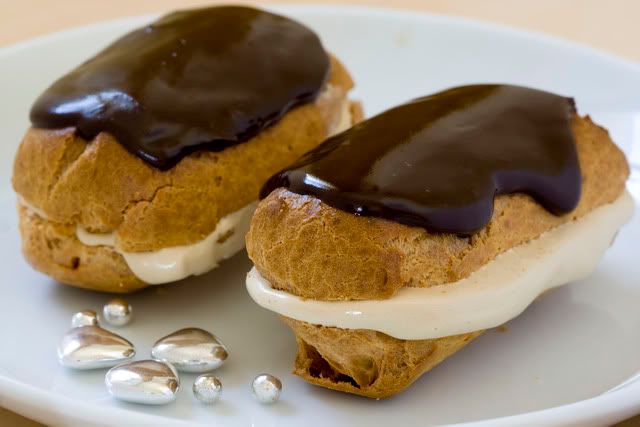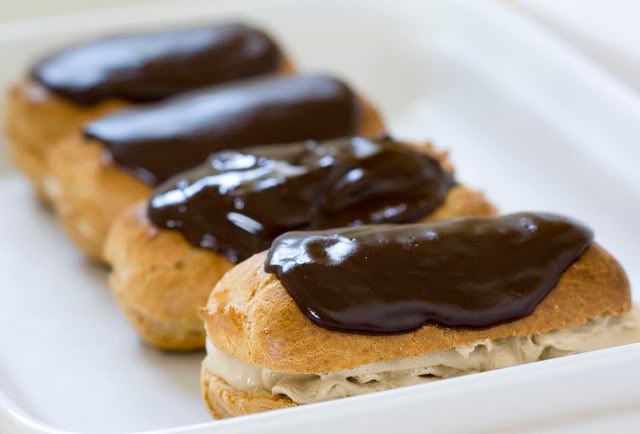 The challenge for this month is Chocolate Eclairs by Pierre Herme. I have not made eclairs before and the August challenge is my first time making some. The challenge consists of 3 elements, the Pate a Choux or the Cream Puff Dough, Pastry Cream and Chocolate Glaze.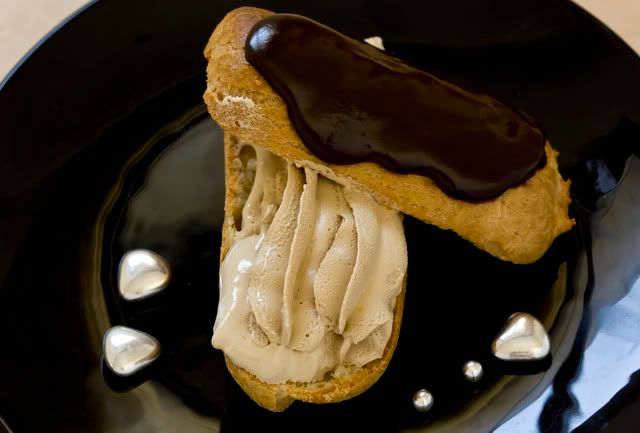 Having no prior experience to making eclairs or cream puffs, I was actually scared of making the eclairs especially after seeing that making it requires boiling the liquid ingredients first then adding the dry ingredients. I don't know when to add the dry ingredients, I don't know how the dough will look like afterwards and such concerns. I kept reading notes before attempting on making the eclairs but I guess experience is the best way to learn it. Also because of having no eclair experience, I followed the recipe to the tee.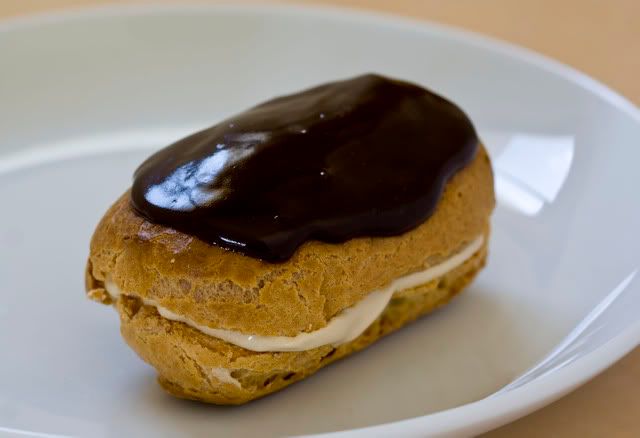 I started boiling the milk, butter and water together on medium heat and once it got to a rolling boil, I added the dry ingredients consisting of flour, sugar and salt. Then I mixed it until smooth for 3 minutes while still on medium heat. Then I took it out of the heat onto the mixing bowl and beat it with paddle for 3 minutes until it was cool enough. I then added 5 eggs, one at a time, adding the next one only after the previous was well combined. Then that's it, that's my dough. I now piped the dough onto a baking sheet lined with parchment paper, about 3 inches long, 2 inches apart. I baked the eclairs at 375F for 7 minutes, and then after 7 minutes, I slipped a wooden spoon in the oven to keep it ajar, then rotated the pan when it was already in the oven for 12 minutes. I took it out after a total of 20 minutes in the oven.
Once taken out, my first batch lost its fluff, flattened out and got soggy in the middle. I was disheartened. I had never had such a baking disaster in the recent past. Nevertheless, the soggy eclairs were still very tasty. I was planning on leaving the eclairs for the day and give it a try some other time, but I can't get it out of my head. After an hour of reading about possible mishaps and thinking of what could have gone wrong, I was back in the kitchen for my second eclair attempt. I did everything all over again but baked it all throughout with the oven door closed all the time. It was at 375F for the first 7 minutes, and then I lowered it to 350F for the rest of the 20 minutes. Once baked, I turned off the oven, opened the door and let the eclairs cool there for 20 minutes. All the while, I kept checking if the eclairs will sink again to see where it will start to flatten again just in case I fail again. It didn't. I took it out after 20 minutes, transferred to a cake rack and cooled it completely. Here's how it looked like: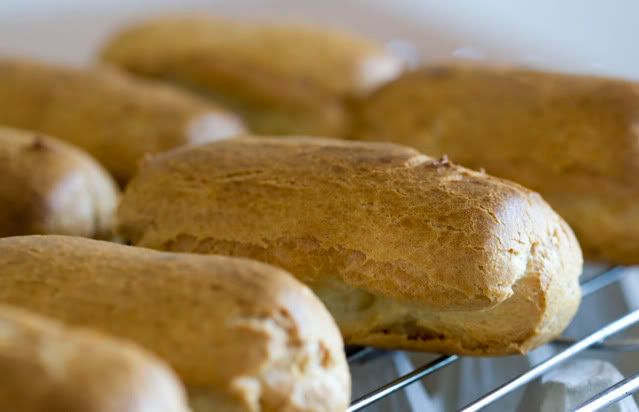 While the eclairs were cooling down, I prepared some mocha cream filling and chocolate glaze. Preparing these two went uneventful. I then filled the eclairs with the mocha cream filling and glazed the topped with the chocolate glaze. Once prepared, Manny and I sampled it and it was so delicious! Good thing it was at an odd hour that we ate it, or else we'll be skipping dinner again.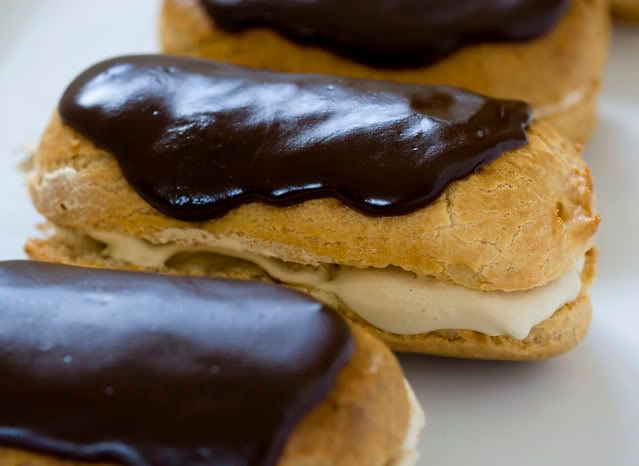 What's not to like? Eclair, good. Chocolate glaze, good. Mocha cream filing, good. :)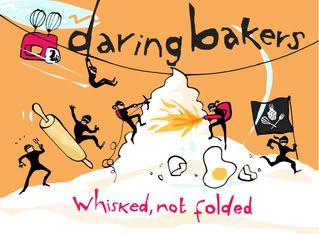 In Baking911, Sarah Philips has a very informative page on eclairs (and pastries in general). See her Pastry101 page.



Pate a Choux, as I found out from Wiki, is "a light pastry dough used to make profiteroles, croquembouches, eclairs, French crullers, beignets, Indonesian kue sus, and gougères. It contains only butter, water, flour, and eggs. Its raising agent is the high moisture content, which creates steam during cooking, puffing out the pastry".