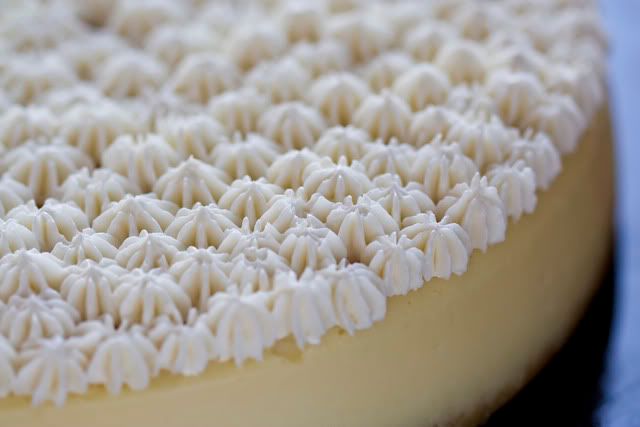 It's Manny's birthday today. Here in Israel, or at least in our office, the birthday tradition is that you are supposed to bring your own cake and announce to everyone that it's your birthday and you have a birthday cake in your cube.
I made him a Cookie Dough Cheesecake. Instead of a graham crust, I made a cookie batter and pressed it at the bottom of the pan to serve as crust. I chilled the cookie crust while I prepared the filling. I then mixed up the cheesecake batter and poured it onto the prepared crust. After removing air bubbles on the poured filling, I then put the pan to a prepared water bath with boiling water and then baked it for about an hour. Cheesecakes are supposed to be chilled overnight or up to 24hours before unmolding so I left it wrapped in the fridge for a day. Once chilled properly, I then unmolded it and started to decorate it. I put some strawberry syrup first on top for flavor and then piped Vanilla Buttercream on top.
We brought it to the office today for his birthday. Some of our officemates came back for second serving and before we knew it, the cake was gone.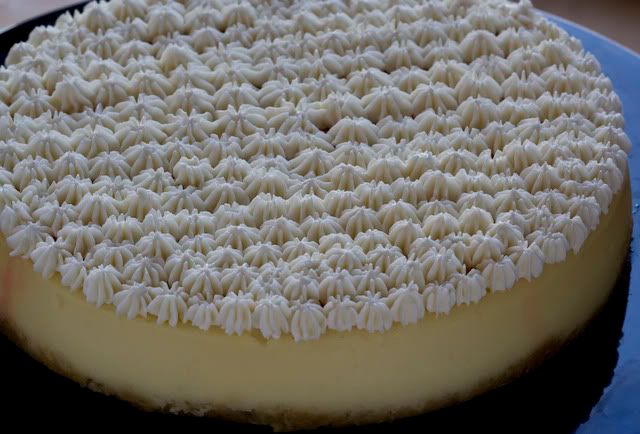 Happy birthday kabibe! I hope you had fun today. :)