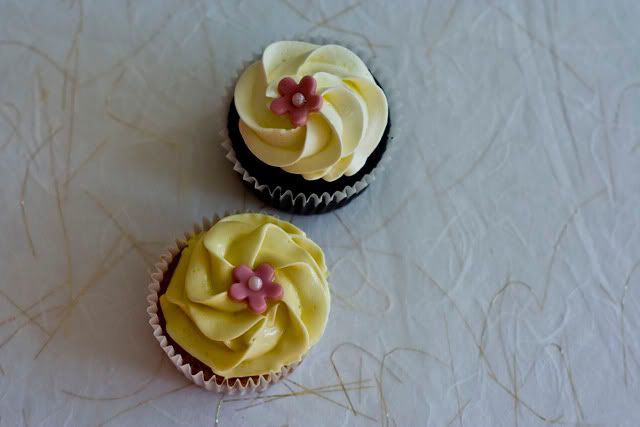 I'm sleepy. I was on a baking spree last night and I made some Mocha and Chocolate Cupcakes. Van and Ate Mayz ordered a bunch of those cupcakes. I started baking at around 8PM, and finished at past 3AM with a lot of welcome interruptions in between. I made 75 cupcakes, half of which frosted with Mousseline Vanilla Buttercream, and half frosted with Neoclassic French Buttercream.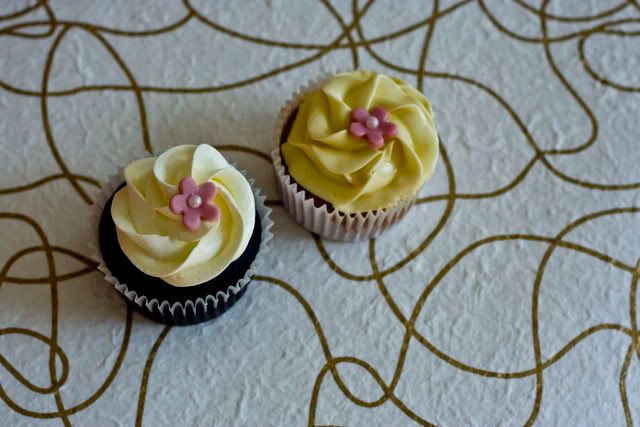 The Mocha was a variation of Sarah Phillips' Orange Sponge Cake, and substituted the orange flavor with mocha and espresso. The cupcakes did not dome because the recipe is for a cake, and when baking a cake, it bakes nicely flat and very easy to frost. The cupcakes were still very cute though (although Van said, it's just a couple of bites to finish!). I frosted the Mocha cupcakes with the Neoclassic French Buttercream.
The chocolate cupcakes, which is my best seller, is of course Sarah's Ultimate Chocolate Cake with Chocolate Chips inside. The cupcakes domed nicely, and were very moist. I frosted it with Vanilla Mousseline Buttercream.
After baking all the cupcakes and before making the frostings, I ran out of sugar and it was already 1AM! I wondered where at this time could I buy some sugar. So I went out of the house and drove to 7-11 hoping that they were selling sugar. And they were selling sugar! I never thought I'd be buying sugar from 7-11, and then finding some in it.
I garnished the frosted cupcakes with a small piece of flower. I could only manage a single color at the ungodly hour. I was too sleepy to make it fancier. I also noticed that all of my frostings are just variations of white - from off-white, to beige, to slightly yellowish. For some reason, I always make the frostings when it is too late, so I never get to color it! Well I should next time, and if you request for it, I will color it to your liking. Price for the Mocha cupcakes is 460php for a box of 12 which is the minimum order.