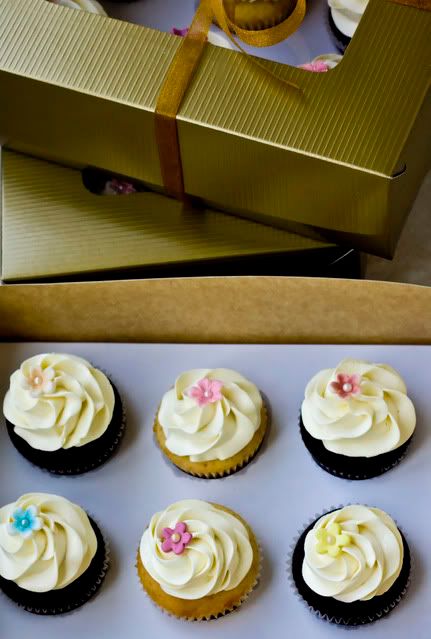 The last time that I baked was about a month ago and I have not been really on a baking mood ever since I came back from Israel. In fact, I think I despised the idea of hearing my Kitchen Aid churning. I dreaded the day that I will open my boxed baking stuff. I was basically out of sorts. I also never wanted to bake half-heartedly, or else it won't taste good. To cut a really long story short, I was forced to bake.
For the first batch, I made my most reliable recipes, Ultimate Butter and Ultimate Chocolate Butter Cupcakes by Sarah Phillips. I was able to yield 24 Vanilla Butter cupcakes and 36 Chocolate Butter cupcakes. I was surprised that it went perfectly, and none of the cupcakes fell off the liners. These became samples that I gave to my officemates, to daddy A for his birthday and as a thank you for driving for me, to the Dacios and to some of my Mama and Uncle Obet's friends. The cupcakes looked very elegant in the boxes. The boxes were a little expensive though,
so Ly please go to divi with me
. :)
The samples got rave reactions and I immediately got a lot of orders. Below is a glimpse of the orders that I got. I was only initially offering the Vanilla and Chocolate because I still had to compute the prices. Minimum order is box of 12 for 460php.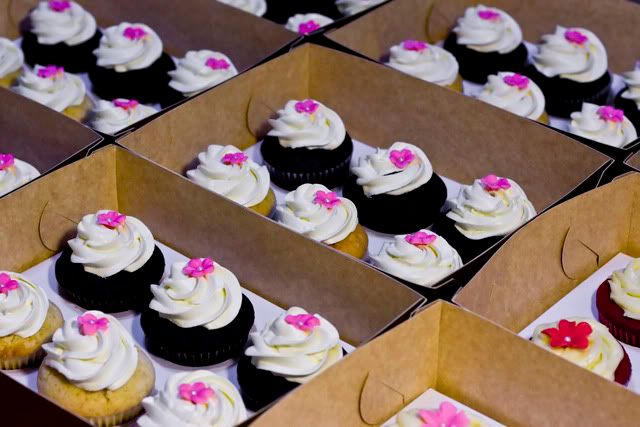 When I brought the orders, I also brought samples of the Red Velvet cupcakes with Cream Cheese Frosting. I was finally able to make it red, oh I love food colors here in the Philippines! The Red Velvets also got rave reviews. I don't have prices for the Red Velvet yet. I know I should be computing it really soon, as I already have orders!
Here's a sample of how the cupcakes look like in the pretty boxes. This is just a box of six though, as these are gifts.