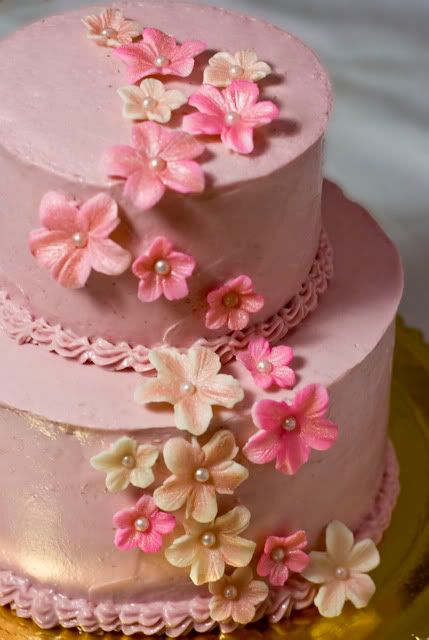 To celebrate my first baking anniversary, I made a mini-tiered cake. This is the first time that I made a tiered cake and since it's my first time, I tried with smaller pieces, a 4-inch cake on top of a 6-inch cake. I also wanted for days now to try the Raspberry Cloud Cake by Sarah Philips so it's like a match made in heaven. The Raspberry Cloud Cake is composed of a Genoise, Raspberry Buttercream and a Raspberry Syrup.
A Genoise, a type of Sponge Cake, is a light and airy cake which is made with gentle folding of flour into the beaten eggs. This is my first time making a Genoise and it was not as easy as I thought it would be. I had to make it thrice, having failed on the first two attempts. I was tempted to give it a rest and try it some other time but I was so decided on making it a success. After carefully thinking of what went wrong, I figured why. My oven rack was in the middle instead of the lower third! When I thought I had a breakthrough, I decided to give it a try again, very carefully folding again and following Sarah's very detailed instruction and I succeeded. After 12 eggs down the drain, I finally have two 6 inch and two 4 inch layers of Genoise beaming at me. It was very late at night, but it was so worth it. :)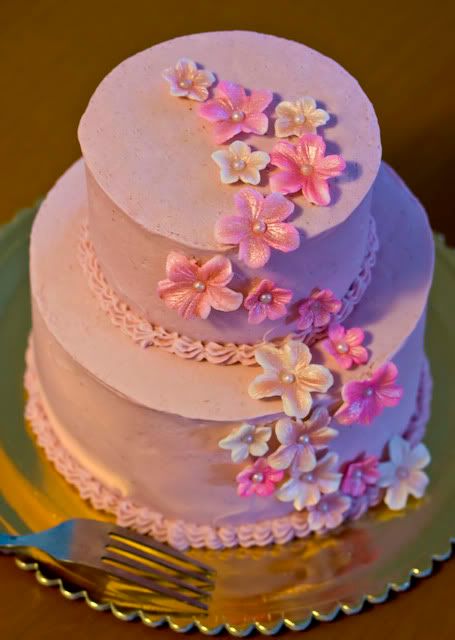 While the cakes were baking, I made the Raspberry Syrup and when the cakes were totally cooled, I just brushed the layers with some Syrup. Yum, I could imagine already how it taste like once made. I gave my layers a rest for the night. When I proceeded, I made the Buttercream and added some Raspberry preserves and the Raspberry liquer. Yum again! But anything with Raspberries is just yummy! The liquer gave it a huge flavor boost. And after adding the raspberry preserves and liquer, the buttercream turned into a pretty pink color. Maybe I should do blueberries next time and I'll have a nice blue tint in my cake.
So I then frosted and smoothen the icing of the cakes and then stacked it up. I had to put a few dowels in the cake so that it would stand straight in the top layer and won't fall. I was so excited seeing the cakes one on top of the other! I then just decorated it with a few flowers that I made. I bought this edible lusters and it was fun brushing the flowers with it. It was like applying blush on. I was amazed at how pretty the flowers were after applying the lusters. I should probably get it in more colors. Hehe.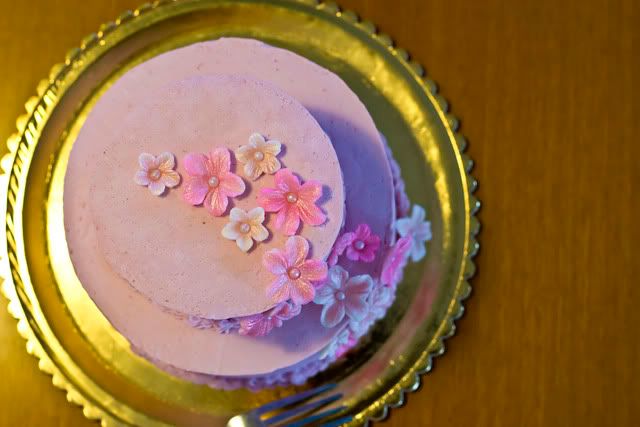 So here's the final cake, not perfect but not bad for a first time either. As they say, practice makes perfect. :) And greet me a happy baking anniversary~