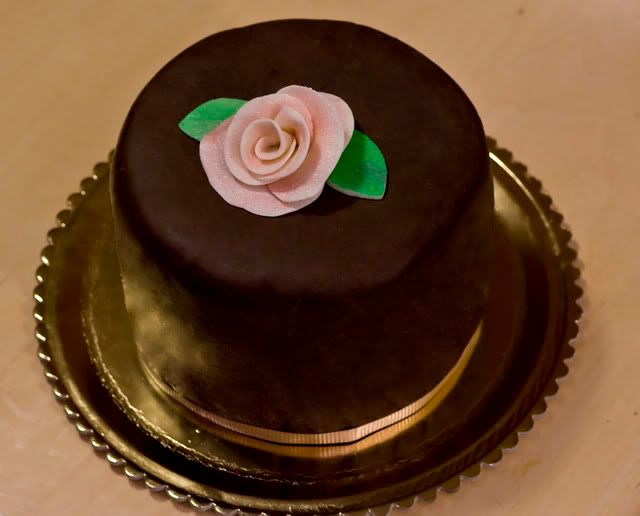 I have not baked anything with chocolates for the past month so I decided I will go over the top with chocolates. I baked the Ultimate Chocolate Butter Cake by Sarah Philips, filled it and frosted with Chocolate Ganache and then wrapped it with Chocolate Plastic. Everything will be chocolates.
Somebody asked me what I love the most about making cakes, is it decorating? Actually, no. I love baking the most, the part where you mix flour, butter and all other stuff, then put it in the oven and then have a pretty layer of cake or nicely domed cupcakes. I always strive for perfection on the height and edges of the cakes. I don't mind having imperfect icing or decorations as long as I have a good cake. That is why I get frustrated when I cannot get a recipe perfectly, I keep baking the same recipe over and over until I get it perfectly. Having said that, I baked my cake pretty nicely and that's what mattered most to me. I love stacking layers and not having to torte or trim edges. The chocolate cake was so moist and very decadent, because it has melted chocolates and cocoa powder on it. It's like those expensive European cakes in cafes loaded with chocolates. I then made the ganache and it was so rich and fudgy! Once the cake layers were cooled, I assembled the cake with the ganache filling and frosting.
It is my first time making chocolate plastic and it was easy. Putting it on the cake though is another story. I had a great time kneading the chocolate plastic, it was just like clay dough. I easily rolled it but I had a hard time putting it on the cake. I'm a total bummer with fondant and I think there is only one fondant cake that I had been happy about because I put the fondant nicely. The others had a lot of issues from folds, creases or cracks. As expected, I was not able to put on the chocolate plastic without issues. I had to do a lot of smoothening of creases after I put it. However, I think I produced a decent cake. I just topped the cake with a single rose and lined with a tiny lace at the bottom.
So here's my chocolate overload cake. We will have it for dessert tonight, I bet it tastes good! I should know, I've tasted the components individually while making it. :)