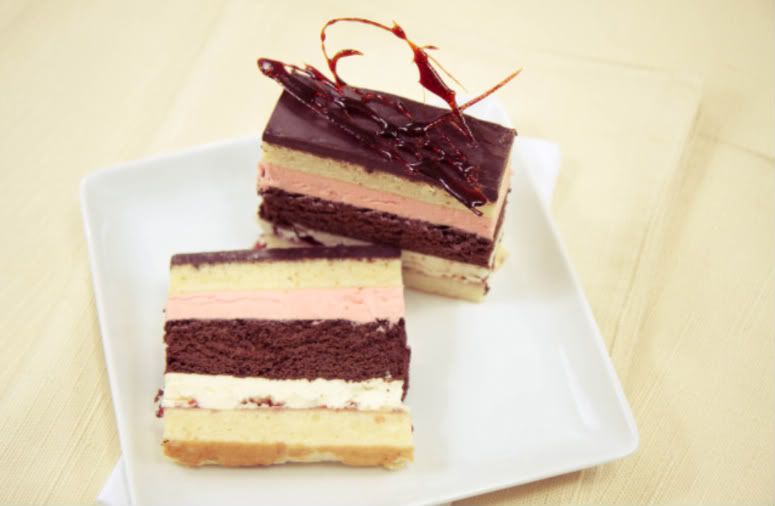 I had been thinking about making a layered sheet cake for some time, and I finally bought a new 13x9-inch pan to do the layers. With all the moving that I did the past 2 years, I have lost some of my stuff and I don't know where my 13x9-inch pan went (among other stuff).
I needed a sturdy base for the cake, so I made Sarah's Cream Cheese Pound cake. It holds, yet it is soft and moist. I first baked that on the sheet pan, and after about 20mins, I have my first layer. Then I made the Chocolate Cake. While I was baking, I made the Swiss Buttercream, halved it and flavored each half with Raspberry and Vanilla. I also made the Dark Chocolate Ganache.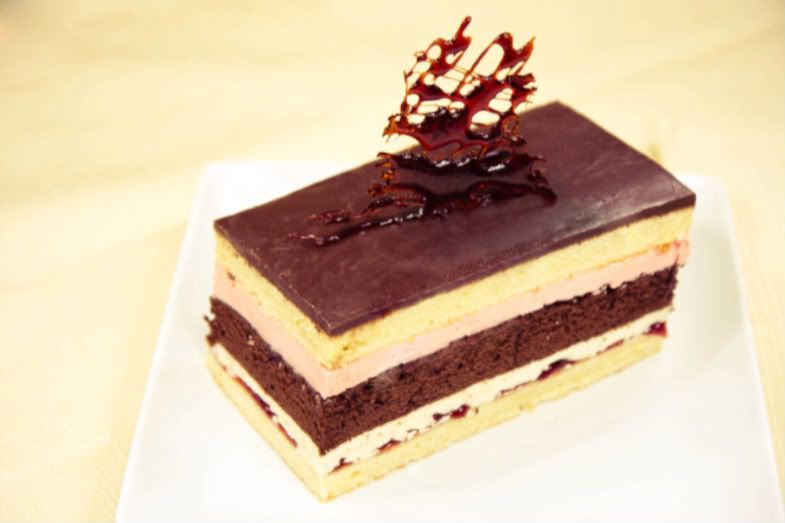 Assembling the cake was so much fun, with all the variety and the colors! I cut the cakes lengthwise in half and I used the first half of the pound cake as the bottom layer. I still have some homemade raspberry jam, and I frosted the bottom layer with it. Then the next layer was the Vanilla Buttercream, and then the Chocolate cake layer. After the chocolate cake layer was the Raspberry Buttercream, and then the other half of the pound cake. It was tall enough without using the the 2nd half of the chocolate cake. I glazed the top with the chocolate ganache (which by itself is to die for!).
After putting everything together, I was thinking of what to put on top of the cake. I had always wanted to do sugar candies, spun sugar, or something like that. I think it makes desserts look fancy. I just never tried making it because it is messy! I made a simple sugar syrup for the sugar decoration. While I was boiling my syrup, my fire alarm came off! I was so scared that it went off since it was already in the middle of the night! It scared the wits out of me! After figuring out how to turn off the alarm (think Phoebe in Friends, lol), I continued with the sugar syrup. After much ado, I had my very first pretty sugar candies with only two burnt fingers to boot. Haha.