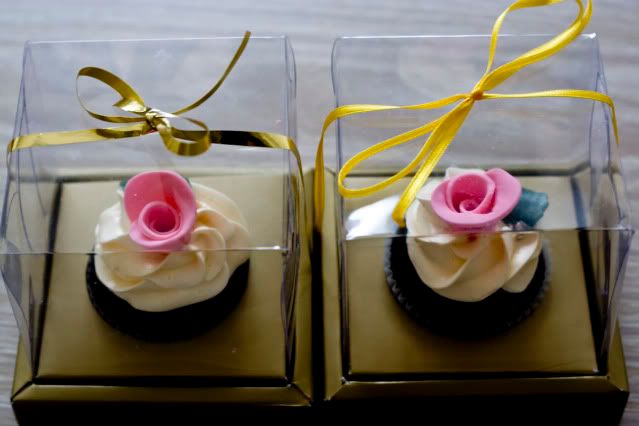 These are the only photos that I managed to take out of the 120 cupcakes that I made for a wedding yesterday. It was a golden wedding anniversary and I decided to make a cupcake tower and a few souvenirs.
The cupcake flavors were Strawberry-filled Vanilla Cupcake with Raspberry Buttercream, Orange Cupcake with Orange Buttercream, Mango Cupcake with Mango Buttercream, Chocolate with Chocolate Ganache, Chocolate with Coffee Buttercream and Chocolate with Orange Buttercream. I know it's a lot of flavors, but it was more fun to make than building a tiered cake!
Ysabelle (my niece, who was better than Uncle Obet at building the boxes) helped me build individual souvenir boxes to be given at some guests in the wedding. We were able to make 10 pieces of the souvenirs. However, the boxes met an accident when a clumsy friend (haha!) tilted the box containing the souvenirs! The cupcakes inside the souvenir box ended up as snacks in the car.
The wedding is in Pampanga which is about 1.5-2hours drive from Manila, and as usual, I again had a major dilemma on how to transport the cupcakes. I placed the cupcakes in boxes of 12s and drove it to Pampanga. Transporting the cupcakes was fairly easy, except for a few minor scare of the cupcakes jumping out of the hole due to humps.
The wedding was at around 3pm, and we were there at 2pm. It was sooo hot in Pampanga! I think it was around 40C (no kidding!). Not having eaten anything for the whole day, we were treated to a wonderful feast and we were so full! We ate up even if it was too hot. A few minutes before 3pm, people in the house all went to the church for the ceremony, and we were left to setup the cupcakes. I setup the cupcakes, then left it to go to the church (or better yet, to eat halo halo beside the church. Haha). My brother took my camera to the church so I was not able to take a picture of the cupcakes immediately after setting it up. We left the cupcakes in the middle of the reception area (mind you the reception area was open with no airconditioning), and when I went back, the Mousseline frosting melted in the scorching heat. Here's how the tower looked like after an hour in the heat. Sobrang dugyot! I was so disappointed that I was not able to take a good photo of the tower before the disaster.
So here's how the wilted cupcakes looked like. I hope Allan and Beann gets a reception hall with full airconditioning! Even if the icing melted, the fact remains that the cupcakes were yummy and it got finished. :)